Profile Sander
WOODWORKING
4 Sanding Heads Profile Sander (Antique wood grain)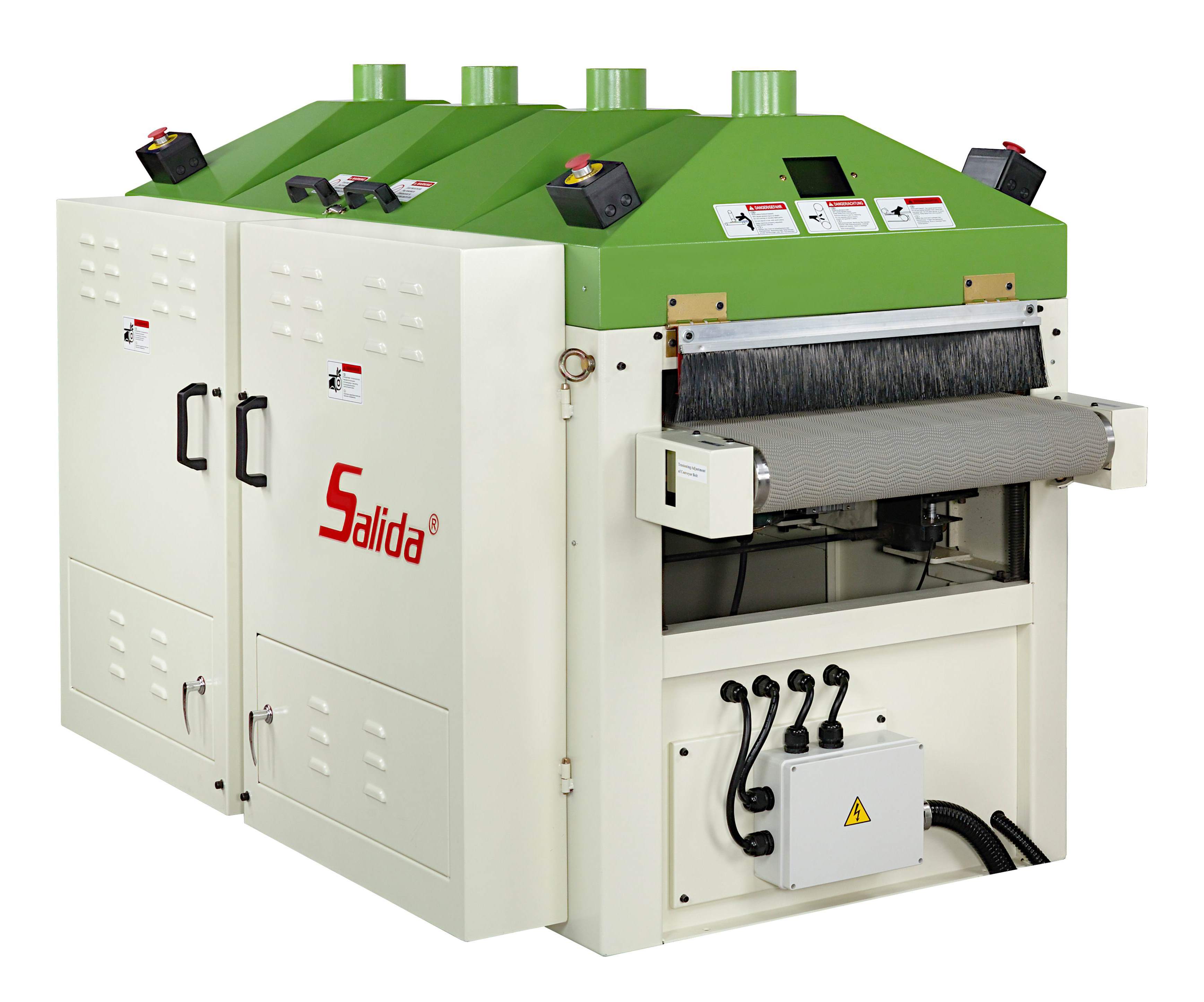 FEATURES
Three sizes for choice: 25", 37" & 54".
4 Sanding Heads, 1st: Steel brush, 2nd~4th: can be Steel brush or Abrasive nylon brush.
Steel brush sanding head with 2 speed shifts, adjusted by changing belt position on pulley.
Abrasive nylon brush with variable speed, adjsuted by knob turning.
Can be used on sanding wood for making anitque wood grain finish.
The main frame is fabricated of heavy steel plate and ribbed to minimize vibration & deflection.
Conveyor speed is variable and adjusted by knob turning.
Conveyor table height is adjusted by handwheel, a scale adhered to read the Conveyor table height.
Specifications
| | | | | | | |
| --- | --- | --- | --- | --- | --- | --- |
| Model | SL-6354 S+N | SL-6354 2S+2N | SL-9404 S+N | SL-9404 2S+2N | SL-13704 S+N | SL-13704 2S+2N |
| Sanding Head | 1 steel roller 3 abrasive nylon brushes | 2 steel roller 2 abrasive nylon brushes | 1 steel roller 3 abrasive nylon brushes | 2 steel roller 2 abrasive nylon brushes | 1 steel roller 3 abrasive nylon brushes | 2 steel roller 2 abrasive nylon brushes |
| Max. Sanding Width | 635mm (25") | 635mm (25") | 940mm (37") | 940mm (37") | 1370mm (54") | 1370mm (54") |
| Max. Sanding Thickness | 140mm (5 ½") | 140mm (5 ½") | 140mm (5 ½") | 140mm (5 ½") | 140mm (5 ½") | 140mm (5 ½") |
| Min. Work Piece Length | 300mm | 300mm | 300mm | 300mm | 300mm | 300mm |
| Min. Sanding thickness | 5mm | 5mm | 5mm | 5mm | 5mm | 5mm |
| Table Dimension | 635 X 1350mm | 635 X 1350mm | 940 X 1350mm | 940 X 1350mm | 1370 X 1350mm | 1370 X 1350mm |
| Steel Head Speed | Two-stage rate | Two-stage rate | Two-stage rate | Two-stage rate | Two-stage rate | Two-stage rate |
| Abrasive Brush Head Speed | Variable  Speed | Variable  Speed | Variable  Speed | Variable  Speed | Variable  Speed | Variable  Speed |
| Variable Feeding Speed | 2.4 ~ 7.2M/min (8 ~ 24 FPM) | 2.4 ~ 7.2M/min (8 ~ 24 FPM) | 2.4 ~ 7.2M/min (8 ~ 24 FPM) | 2.4 ~ 7.2M/min (8 ~ 24 FPM) | 2.4 ~ 7.2M/min (8 ~ 24 FPM) | 2.4 ~ 7.2M/min (8 ~ 24 FPM) |
| Optional VFD Feeding Speed | 2 ~ 12M / min. | 2 ~ 12M / min. | 2 ~ 12M / min. | 2 ~ 12M / min. | 2 ~ 12M / min. | 2 ~ 12M / min. |
| Sanding Head Motors | 7.5HP X 1 + 5HP X 3 | 7.5HP X 2 + 5HP X 2 | 15HP X1 + 7.5HP X 3 | 15HP X 2 + 7.5HP X 2 | 15HP X 1 + 7.5HP X 3 | 15HP X 1 + 7.5HP X 3 |
| Feed Motor | 1/2HP (0.37kW) or 1HP / VFD | 1/2HP (0.37kW) or 1HP / VFD | 1/2HP (0.37kW) or 1HP / VFD | 1/2HP (0.37kW) or 1HP / VFD | 1HP or 2HP / VFD | 1HP or 2HP / VFD |