Double Drum
WOODWORKING
54" DRUM SANDER MACHINE SL-5424 (SL-5424VS)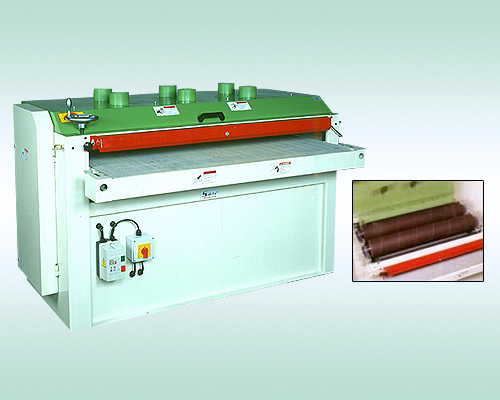 FEATURES
2 sanding drums with 54 inches sanding
width and 4 inches sanding thickness
Equipped with high efficiency dust system
Thickness control switch ensures operation safety.
Industrial grade conveyor belt provides smooth
running and slip-free performance.
Variable feeding speed (optional)
This versatile drum sander is designed for sanding
a wide variety of parts such as metal, non-metal,
wood, pc board, etc.
Specifications
| | | | |
| --- | --- | --- | --- |
| Model No. | SL-5424 | SL-5424VS | SL5424VFD |
| Max. working width | 54 (1370mm) | 54 (1370mm) | 54 (1370mm) |
| Max. working height | 4" (100mm) | 4" (100mm) | 4" (100mm) |
| Table dimension | 1370 x 870mm (54"x 38") | 1370 x 870mm (54"x 38") | 1370 x 870mm (54"x 38") |
| Sanding wheel diameter | 150mm (6") | 150mm (6") | 150mm (6") |
| Speed of sanding wheel | 1720 RPM | 1720 RPM | 1720 RPM |
| Feeding speed | 3.7M / min (12FPM) | 2.4~7.2M / min (8~24FPM) by pitch pulley | 2~12M / min (6.5~39FPM) by VFD |
| Sanding motor | 15HP | 15HP | 15HP |
| Feeding speed | 1/2HP | 1/2HP | 1/2HP |
| Machine Dimensions (L x W x H) | 66" x 46 1/2" x 43" | 66" x 46 1/2" x 43" | 66" x 46 1/2" x 43" |
| Packing Dimensions (L x W x H) | 74" x 54" x 45" | 74" x 54" x 45" | 74" x 54" x 45" |
| Net weight | 550 KGS (1213lbs) | 550 KGS (1213lbs) | 550 KGS (1213lbs) |
| Gross weight | 610 KGS (1345lbs) | 610 KGS (1345lbs) | 610 KGS (1345lbs) |