Single Drum
WOODWORKING
37" DRUM SANDER MACHINE SL-3714 & SL-3714VS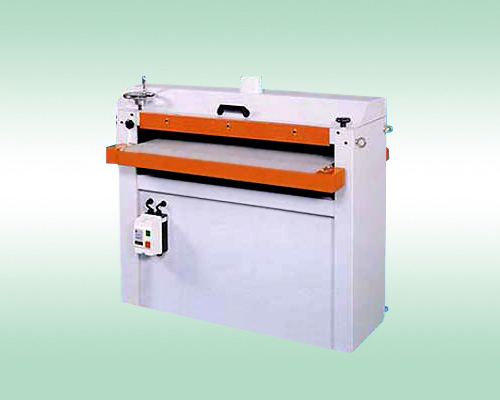 FEATURES
1. Equipepd with 1 set of drum sanding head, Max. sanding width 37" and Max. sanding thickness 4".
2. Dust chimney is built for efficiently connecting dust collecting system.
3. Thickness safety limit switch is installed to prevent too thick work pieces go through that may result in the hazards to users and damages to machine.
4. Industrial grade conveyor belt is used for smooth and slip-free feeding.
5. Variable feeding speed adjustment (optional).
6. Applied on sanding different types of materials: metal, wood, PC and etc. in board forms.
Specifications
| | | |
| --- | --- | --- |
| Model No. | SL-3714 | SL-3714VS |
| Max. working width | 37" (940mm) | 37" (940mm) |
| Max. working height | 4" (100mm) | 4" (100mm) |
| Table dimension | 940 x 646mm (37"x 25 1/4") | 940 x 646mm (37"x 25 1/4") |
| Sanding wheel diameter | 150mm (6") | 150mm (6") |
| Speed of sanding wheel | 1720 RPM | 1720 RPM |
| Feeding speed | 3.7M / min (12FPM) | 2.4~7.2M / min (8~24FPM) by pitch pulley |
| Sanding motor | 5HP | 5HP |
| Feeding speed | 1/4HP | 1/4HP |
| Machine Dimensions (L x W x H) | 49" x 32" x 43" | 49" x 32" x 43" |
| Packing Dimensions (L x W x H) | 53" x 34" x 45" | 53" x 34" x 45" |
| Net weight | 250 KGS (550lbs) | 250 KGS (550lbs) |
| Gross weight | 290 KGS (639lbs) | 290 KGS (639lbs) |