4 Sides Lineal Brush Sander
WOODWORKING
SL-300-7S (4SIDES) Moulding Sanding Machine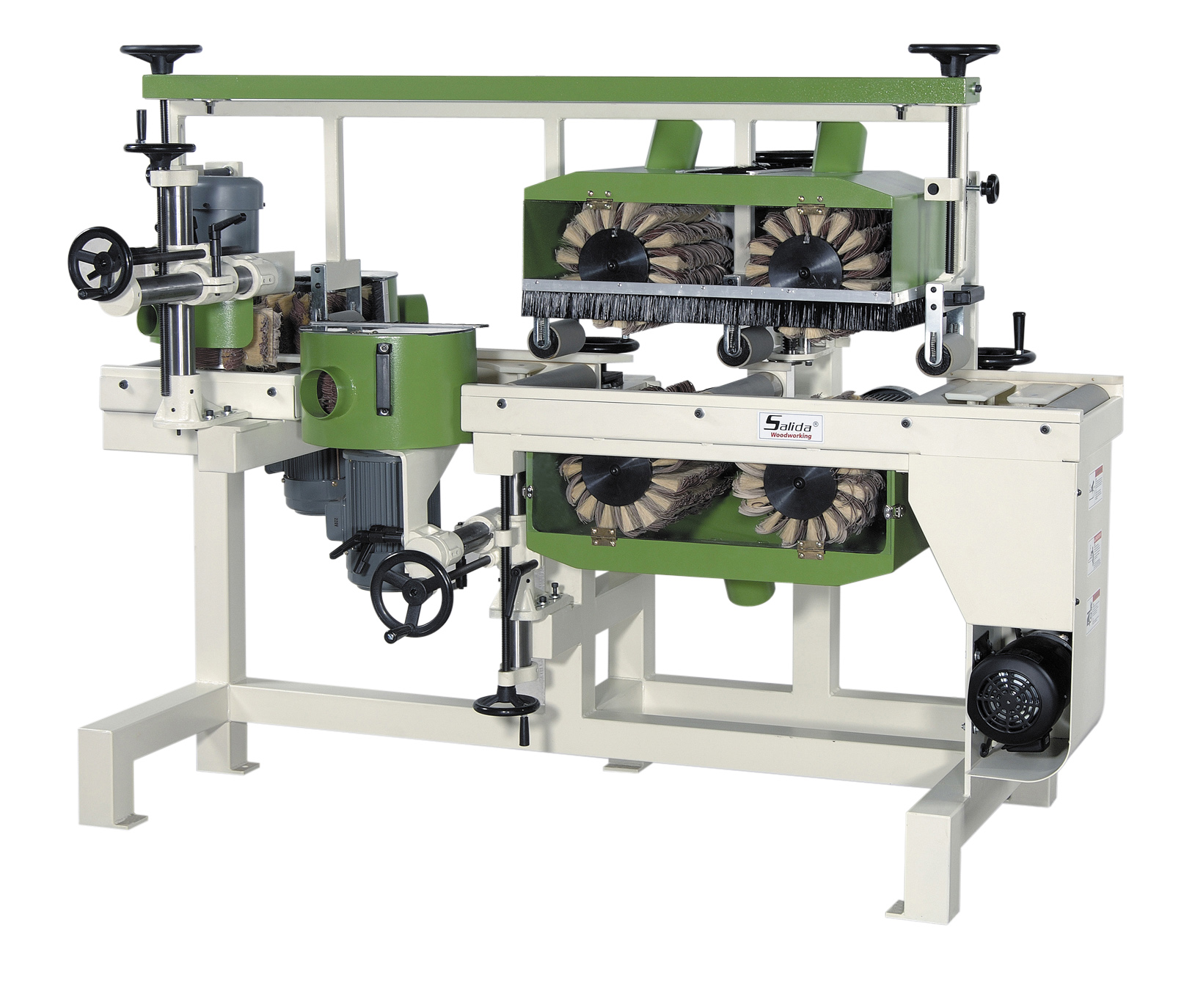 FEATURES
Molding Sanding Machine 4 sides, equipped with 7 pcs of sanding heads
1. The mainframe is fabricated of the heavy steel plate and ribbed to minimize vibration and deflection.
2. All operating controls are centralized in a convenient control panel.
3. It can be used to sand architrave and molding for 3 sides or 4 sides.
4. Top and Bottom two sets of sanding heads, the speed controlled by inverter.
5. Material hold down device: roller type.
6. Material hold up& down adjustment by manual
7. Sanding head position adjusted by manual
Specifications
| | | |
| --- | --- | --- |
| Model No. | SL-300-7S | SL-300-7SH (Heavy base) |
| Max. working width | 12" (300mm) | 12" (300mm) |
| Max. working height | 4" (100mm) | 4" (100mm) |
| Min. work-pieces length | 33" (838mm) | 33" (838mm) |
| Min. work-pieces thickness | 3/8" (9.5mm) | 3/8" (9.5mm) |
| Feed speed | 2.8 – 8.2 m/min (Verious speed pulley drive) | 2 ~ 12 m/min (Inverter) |
| Speed of sanding head | 200-1200 RPM | 200-1200 RPM |
| Top sanding head motors | 2 x 3/4HP (0.55 KW) | 2 x 3/4HP (0.55 KW) |
| Bottom sanding head motors | 2 x 3/4HP (0.55 KW) | 2 x 3/4HP (0.55 KW) |
| Right sanding head motor | 1 x 1/2HP (0.37 KW) | 1 x 1/2HP (0.37 KW) |
| Left sanding head motor | 1 x 1/2HP (0.37 KW) | 1 x 1/2HP (0.37 KW) |
| Angle sanding head motor | 1 x 1/2HP (0.37 KW) | 1 x 1/2HP (0.37 KW) |
| Conveyor motor | 1/4 HP (0.18KW) | 1/4 HP (0.18KW) |